Prior to the examination, you will receive an MRI information sheet and a questionnaire about your medical condition. An x-ray assistant will remind you to remove all metallic objects before you enter the examination room. Such metallic objects may include watches, hearing aids, mobile phones, items of clothing with metallic parts, and jewelry. You should also remove debit/credit cards from your pockets. Metallic objects inside the body, such as dental or joint prostheses, or metal plates inserted during bone operations, are usually not a problem.
You must inform us in advance if you have any of the following:
stents
artificial heart valves
vascular clamps
shunts with telesensors
metal fragments, particularly in or near your head
insulin pumps
large tattoos
During the examination
In preparation of the examination, you lie down on the comfortable examination couch of the open MRI scanner. An x-ray assistant will help position you so that the transmitter and receiver coils can be arranged at the body part which is to be examined. You remain lying down on the examination couch as it is then moved into the open MRI scanner. Thanks to the open-plan construction of the scanner, you have an unobstructed view from the examination couch during the entire scanning process.
An examination usually takes between 20 and 40 minutes. Depending on your individual medical requirements, this time can vary, so it is best to plan your time generously. If you would like, please feel free to bring a companion with you to the examination. In the open MRI scanner, you remain in close contact with your companion at all times.
After the examination
Following the examination, the scans are processed and saved before Dr. Petry explains the pictures to you as part of a detailed consultation. You usually have the opportunity to take copies of the scans and examination report with you on CD straight away. We forward the results of the examination directly to the doctor treating you.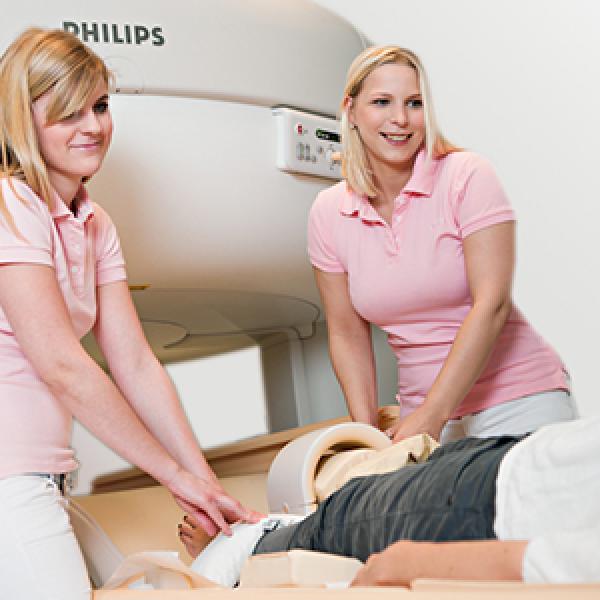 Do you have more questions?
We would be happy to provide you with detailed information about how it works and the advantages in a personal meeting.